64 Solutions



Launch Editor

Damian Butt

Company

ISSN

1369-7064

First Date

December 1997

Final Date

Total Issues
64 Solutions was a 1990s publication from Paragon Publishing and was the UK's first magazine entirely devoted to playing tips and solutions for the Nintendo 64. It was specifically designed to complement its sister publication, 64 Magazine, so that while that magazine focused on reviews, news and features, 64 Solutions could focus on nothing in-depth solutions for all the N64 games on the market.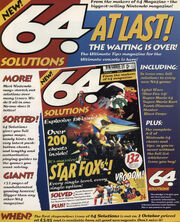 See here for a lst of people who worked on this magazine.
Ad blocker interference detected!
Wikia is a free-to-use site that makes money from advertising. We have a modified experience for viewers using ad blockers

Wikia is not accessible if you've made further modifications. Remove the custom ad blocker rule(s) and the page will load as expected.