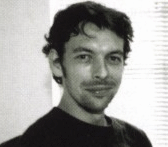 Andy Dyer was a Staff Writer/Editor on many Future Publishing magazines during the 1990s.
Andy's first break into games journalism came about when he applied for a Staff Writer position for Commodore Format. His flat mate had noticed the advert for the launch of a new C64 magazine. He continued to work on CF until late 1991. Along with fellow Commodore Format editor, Steve Jarratt, he helped launch the independent Nintendo magazine Total!: a video games magazine initially focusing on the current Nintendo consoles NES and Game Boy, and later SNES and Nintendo 64. In 1992, Andy, along with Steve Jarratt, produced a paperback book on Nintendo games titled Total 42 - Life, the Universe and Nintendo Games.
He left Total! in the summer of 1992 to become Deputy Editor of Mega. Became editor in late 1993 when Neil West went over to work in the United States. Was launch editor of PlayStation Max; a PlayStation games magazine aimed at the younger gamer during the late 90's. In 2002 the Official PlayStation 2 Tips magazine was launched with Andy as editor.
Since leaving Future Publishing, he worked freelance across a range of titles and established a design partnership specialising in print communication and contract publishing services. In May 2007 Imagine Publishing hired him to take over the editor's position of unofficial Nintendo magazine N-Revolution.
Magazine career
Edit
Staff Writer (Oct 1990 - Nov 1991)
Staff Writer (Dec 1991 - Sep 1992)

Deputy Editor (Oct 1992 - Oct 1993)
Editor (Nov 1993 - Aug 1994)
Editor (Dec 1998 - May 2002)
Contributor to:-
| Game Title | Format | Magazine | Published | Rating | Adj Rating (%) |
| --- | --- | --- | --- | --- | --- |
| Spider-Man | Playstation | PSM2 #1 | 2000/09/01 | 80 | 80 |
| Alien Resurrection | Playstation | PSM2 #1 | 2000/09/01 | 84 | 84 |
Ad blocker interference detected!
Wikia is a free-to-use site that makes money from advertising. We have a modified experience for viewers using ad blockers

Wikia is not accessible if you've made further modifications. Remove the custom ad blocker rule(s) and the page will load as expected.