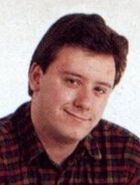 Now a screenwriter, working on the new Star Wars movie having previously written the screenplay for 'The Book of Eli'. Is also credited with writing for the videogame episodic spin-off of The Walking Dead.
Magazine Career
Edit
News Editor (Mar 1991 - )
Deputy Editor (Dec 1993 - Jan 1994) - 2 Issues
Editor (Feb 1994 - )
Contributor to:-
If the "Overall" score is in italics, the original review score has been adjusted into a percentage.
PC Gamer Issue 1 - (December 1993)
Scoop!: Sam & Max Hit the Road - Gary Whitta - 2 pages (18-19)
Scoop!: Theme Park - Gary Whitta - 3 pages (20-22)
Interview: Dave Gibbons: Artist and author - page 36
Interview: Charles Deenen: Interplay's Director of Audio - page 41
Interview: Garry Kasparov: World chess champion - page 46
Terry Pratchett - Going by the Book - 8 pages (54-61)
PC Gamer Issue 2 - (January 1994)
Interview: Steve Purcell - page 33
Shareware - 2 pages (107-108)
PC Gamer Issue 3 - (February 1994)
PC Gamer Issue 4 - (March 1994)
Scoop!: Outpost - 2 pages (14-15)
Violence is Golden - 4 pages (42-45)
PC Gamer Issue 5 - (April 1994)
Scoop!: The Chaos Engine - 2 pages (16-17)
Shareware: Epic Exploration - 2 pages (88-89)
PC Gamer Issue 6 - (May 1994)