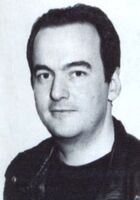 Magazine Career
Edit
If the "Overall" score is in italics, the original review score has been adjusted into a percentage.
PC Zone Issue 1 - (April 1993)
PC Zone Issue 2 - (May 1993)
PC Zone Issue 3 - (June 1983)
PC Zone Issue 5 - (August 1993)
PC Zone Issue 7 - (October 1993)
Anime in the U.K. - 4 pages (70-73)
Blueprint: Starlord - 2 pages (99-100)
Ad blocker interference detected!
Wikia is a free-to-use site that makes money from advertising. We have a modified experience for viewers using ad blockers

Wikia is not accessible if you've made further modifications. Remove the custom ad blocker rule(s) and the page will load as expected.