Play Gamer



Launch Editor

Company

ISSN

2042-1052

First Date

December 2009

Final Date

July 2011

Total Issues

27
Uncooked Media
.
Issue 27 was the final issue of PlayGamer, although the magazine itself previewed an issue 28, a letter (See below) accompanying the subscriber issues revealed that it will cease immediately.
Ian Collen (Dec 2009 - Jul 2011) - 27 Issues
Please see here for a list of writers who are credited with writing articles or reviews in PlayGamer.
Issue
Reviews
Avg Score
Highest Score
Highest Scoring Game
Lowest Score
Lowest Scoring Game
15
4
7.8
9
Mafia II
6
Tom Clancy's H.A.W.X. 2
17
11
7.7
9
FIFA 11, F1 2010
6
History: Great Battles Medieval
18
14
7.4
9
Rock Band 3, DJ Hero 2,
Fallout: New Vegas,
BlazBlue: Continuum Shift,
Vanquish
5
Saw II: Flesh & Blood,
Fist of the North Star: Ken's Rage,
Atelier Rorona: The Alchemist of Arland
25
9
7.4
10
Portal 2
6
Operation Flashpoint: Red River,
Michael Jackson The Experience,
Dynasty Warriors 7
26
9
7.7
9
Red Faction: Armageddon,
Brink, DiRT 3
6
Sniper: Ghost Warrior
27
8
7.1
9
L.A. Noire
5
White Knight Chronicles II
Other InfoEdit
Issue Index
Edit
Please note the index below is an approximation due to the three weekly cycle and there being no indication in the magazine as to which month it relates to.
PlayGamer Cancellation Letter
Edit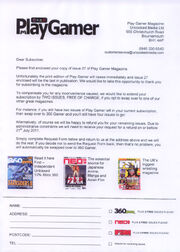 Ad blocker interference detected!
Wikia is a free-to-use site that makes money from advertising. We have a modified experience for viewers using ad blockers

Wikia is not accessible if you've made further modifications. Remove the custom ad blocker rule(s) and the page will load as expected.